10 Reasons To Visit The Lake District In 2017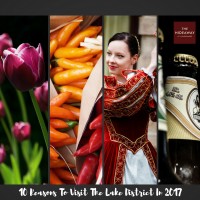 As we wave a farewell to a year that changed the world, it's time to look forward to the rest of 2017 with optimism and hope - and what better way to bring in the New Year than planning a trip away?
2017 is the perfect year to explore the Lake District, and with plenty of events to see and attractions to visit, you'll be wondering why you haven't visited before!
So grab your diary and start plotting out the events you don't want to miss out on below. We're certain you'll have more than ten reasons to visit us by the end!
1. Northumberland Music Festival at the Wordsworth Hotel - 13th -14th January
Few attractions beat that of a fantastic music festival, and the Northumberland Music Festival is no different.
Limited to one act per night, the event is now in its 6th year and will even be going on tour to other venues such as Doxford Hall Hotel and Dalhousie Castle near Edinburgh. But for those holidaying in the Lakes the event at the Wordsworth Hotel is well worth attending.
The act taking to the stage on the 13th of January will be The Three English Tenors. Containing both magnificent songs and wonderful stories, tickets also include a stunning 3-course dinner. Click here to book.
2. Keswick Film Festival - 16th-19th February
In the Lakes, arts are really appreciated. From William Wordsworth to Beatrix Potter, we have quite a backlog of famous creatives - which is why you won't want to miss out on the Keswick Film Festival.
Hosted between the 16th and 19th of Feb, a range of films will be screen including Son of Saul, Arrival, and Raw, each one chosen by respected people from the film industry.
Visit the website to find out more and book your visit!
3.Ambleside Spring Flower Show 18th-19th March
When the weather starts to warm and winter falls into a temporary slumber, it's time to get yourself in the spring spirit with a visit to the Ambleside Spring Flower Show.
Taking place at the Keswick Centre, there'll be an array of stunning flowers on display including daffodils, and also some magnificent floral arts and handicrafts. There'll even be cookery exhibits on display, alongside refreshments and a raffle.
Tickets are cheap and come in at just £2, making this event a lovely little spring afternoon outing.
4. Cumberland Sausage Festival 29th April - 1st May
Situated at Muncaster Castle, the Cumberland Sausage Festival is a must for sausage fans! For the third year running there'll be an array of tasty treats on display over the bank holiday weekend, providing the perfect chance to sample some of the best sausages in the country.
At the event there'll be celebrity chefs, sausage competitions, and plenty of food to taste and purchase for later. Click here for more information.
5. Beer Boot Festival 8th-11th June
If you fancy a pub crawl with class, the Beer Boot Festival is for you! The event takes place across three pubs and features 140 beers and a range of ciders that'll set your beer taste buds alight.
The three pubs involved include the Brook House Inn, the Boot Inn and also the Woolpack - and if you want to know what beers you can expect to find before the event they'll be listed on the website soon, so make sure you check back! Most of the selection will be Northern brewed, making this beer festival a true Northern delight.
6. Coniston Country Fair 23rd July
Holidaying in the Lake District provides the perfect opportunity to discover more about Cumbria life. The Coniston Country Fair is the perfect place to do this, and will be hosted from 11:30am at Coniston Hall.
The show will feature everything from classic Fell dogs, and traditional Cumbrian sports. There'll even be a fell race if you enjoy your sports!
It's a lovely place to discover the foundations of the Lake District and is not one to be missed.
7. Medieval Muncaster 26th-28th August
Image sourced from www.muncaster.co.uk.
Another event from the Muncaster Castle, Medieval Muncaster is a delight for those interested in history and of Muncaster Castle itself.
Taking place on the August bank holiday weekend, the castle will switch back to a 15th-century lifestyle, featuring none other than the Red Wyvern re-enactment society.
On your visit you'll discover knight schools, siege reenactments and much more that were great features during this intriguing part of history. There'll even be the chance to have a go at archery and discover more about the mysterious art of alchemy!
8. Holker Chilli Festival 9th-10th September
If you're into your spice, the Holker Hall Chilli Festival is the 2017 event you won't want to miss. The festival will feature a range of global chilli companies with their finest spicy chillies and there'll also be a world of quirky gifts available too.
If you'd like to see the cookery demonstrations, perhaps sample a few hot bites yourself, then click here and visit the website. The event will be open between 10:30am and 5pm, making it the perfect September afternoon out.
9. Holker Winter Market - 4th-5th November
Just like previous years, Holker Hall will be hosting their annual Winter Marketing on the 4th and 5th of November 2017.
Featuring local foods, gifts, and over 50 stalls, you'll be spoilt for choice! The Courtyard Cafe will also be open if you'd like a bite to eat during the event, so there's no excuse not to head on over and have a magical afternoon whilst getting in the festive spirit.
Find out more about the event over on their website.
10. Kendal Mountain Festival 16th-19th November
Image sourced from www.mountainfest.co.uk.
For something a little different to round of 2017, the Kendal Mountain Festival is the perfect event.
This unique attraction is the UK's premier mountain film festival, loved by so many that it has even gone on to win awards.
There'll be a film competition, as well as a range of industry guest speakers, and everything is featured around one thing - outdoor sports. Find out more about the 2017 event here.
The Hideaway At Windermere
If you need someone to stay after visiting any of these amazing events, then why not book a stay at The Hideaway? We've got some great offers on right now, so don't miss out!
Click here to book or call us on 01539 443 070 if you have any questions or queries. We hope to welcome you to our boutique hotel soon!