6 Cocktail Bars You Must Visit When In The Lake District
Any holiday you go on deserves a cocktail or two.
Whether you're sitting on the beach, exploring nature, or hanging in the city, a tasty cocktail of an evening is the perfect way to round off an enjoyable day.
So when you're in the Lake District, where exactly are the best places to kick back and relax with a yummy cocktail in your hand?
Whether you prefer cocktails or mocktails, we've got a list that's going to ensure you have an amazing cocktail experience whilst staying in the Lake District.
1. The Lighthouse - 5 minute walk from The Hideaway
If you're looking for somewhere where you can enjoy cocktail that's a short walk away from The Hideaway, then The Lighthouse is the perfect choice for you.
Their cocktails are a favourite with locals and visitors alike, you can expect to find a long list so there's something for every taste. As well as this, staff will also be on hand to make you a cocktail even if it isn't on the menu.
It's this great flexibility which ensures you'll have a great time at The Lighthouse. Remember to book if it's the weekend as it does get busy!
2. Village Inn Bar & Grill - 25 minute walk from The Hideaway

Image sourced from Wikimedia
Located in Bowness on Windermere, the Village Inn Bar & Grill is a 25-minute walk away from The Hideaway. Here you'll find a huge collection of tasty cocktails to enjoy!
Choices include Pina Coladas, Apple Tinis, Long Island Ice Tea and much more.
You're sure to be spoilt for choice if you choose this destination to go for a relaxing drink after a busy day exploring some classic Lake District sights.
3. Bodegas Tapas Bar - 24-minute walk
If you enjoy tapas and think that a scrumptious cocktail is the perfect accompaniment, then you need to take a visit to the Bodegas Tapas Bar.
Alongside great food you get the chance to have a relaxing cocktail experience.
You can expect to find some beautifully crafted drinks on the menu such as the BubbleGum Mojito, and the Sangria is also wonderful if you fancy a nice drink with a Spanish twist.
4.

MacDonald Old England - 26-minute walk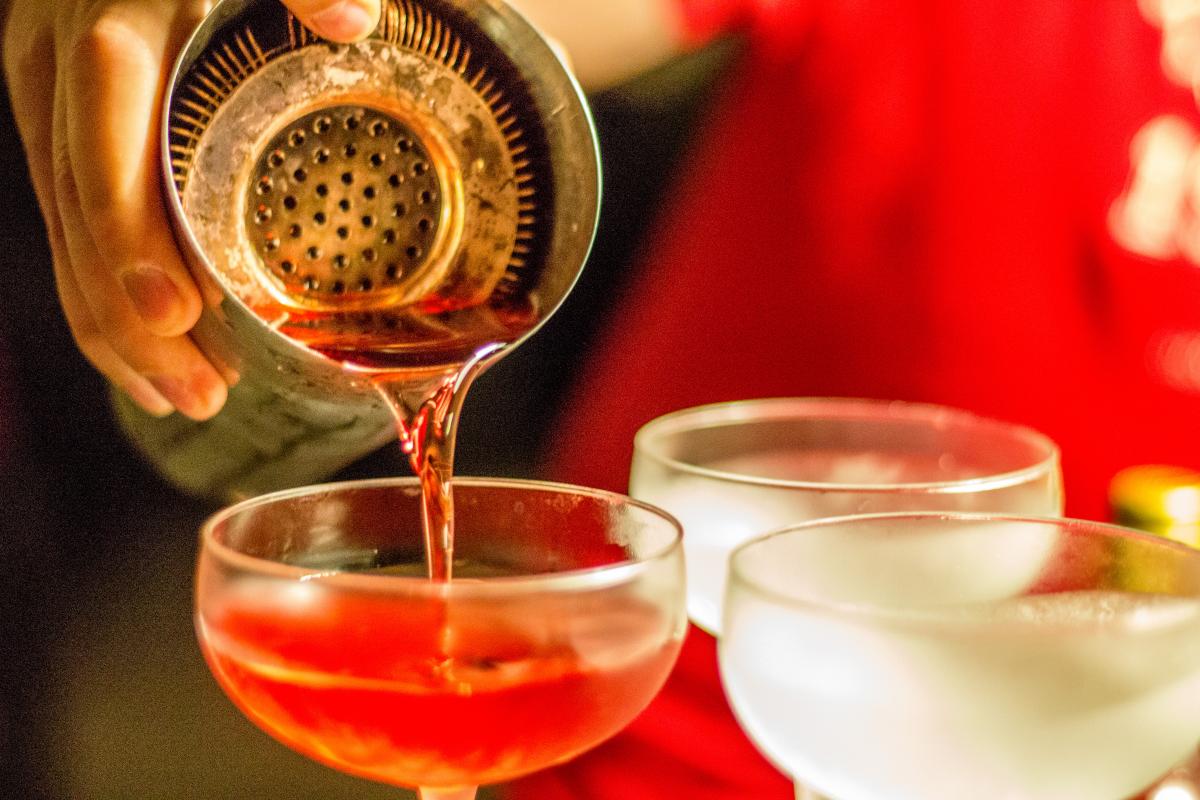 Image sourced from Wikipedia.
If you aren't already aware, The Hideaway guests get special access to the spa at the Macdonald Old England, and it's also an excellent place to attend if you'd like to grab some cocktails too.
Their lounge has a lovely atmosphere and you can relax here and enjoy cocktails alongside a tasty afternoon tea.
It really is a delight to sit, relax and enjoy the views of Lake Windermere bobbing by outside of the window.
5. The Fizzy Tarte - 24-minute walk
This establishment is new to the area, but The Fizzy Tarte is already making a name for itself as a place that offers fantastic drinks in a lovely surrounding.
Their cocktails include French Martinis, Raspberry Mojitos and much more. It's a lovely Champagne Bar that is perfect for the sophisticated cocktail fan.
You're sure to get access to some really tasty drinks at this choice! And all within walking distance of The Hideaway - making it the perfect choice for guests.
6. Country Hut - 25-minute walk
If you're looking for exciting cocktails with a bit of a twist, the Country Hut is the place to go.
They don't tend to do normal when it comes to cocktails here, and you can expect to find exciting things such as your drink arriving in a plastic popcorn box topped with real caramel!
It's a delight for those looking for the next level of cocktails in the Lake district area.
There's also a yummy Bubble Bath cocktail which is bright blue and served with whipped cream and a rubber duck on top, too!
The Hideaway Hotel
So now you know where to get the cocktails in, why not book somewhere amazing to stay?
Here at The Hideaway we take extra special care of our guests, and our boutique hotel is one of the best B&Bs in the area. Just check out our TripAdvisor reviews if you don't believe us!
If you're now convinced and would like to stay with us, you can also explore our rooms here or check our availability on our online booking system. We hope to see you soon!
PS. Please remember to drink responsibly!