6 Questions You've Been Dying To Ask About Lake District Segways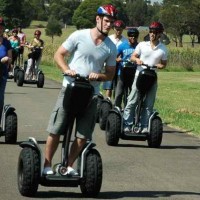 In the 19th century, Victorians from across Britain would flock to the Lake District to enjoy the picturesque views and escape the gruelling smog of industrial urban living. They would walk, hike, and hobble their way through the treks of Windermere and write some of the most inspiring poetry of their generation right on our doorstep. And they wouldn't be afraid to leave their stamp either.
Since then, the Lake District has continued to fuel the imagination and provide countless hours of hikes across its numerous hills, valleys, and meres.
But what if you fancy seeing the Lake District in an entirely new way?
Segway tours have become an increasingly popular way for tourists to explore Cumbria. In fact, it's become so popular, that it's ranked the no.1 activity in Cartmel.
So if you're feeling adventurous (well, not too adventurous) here is everything you need to know about segway sightseeing.
Where can I hire a segway?

There is one main operator that offer segway tours in the Lake District: Lakeland Segway.
Lakeland Segway provide group events across different routes across the lakes, including Cartmel, an 'Adventure Tour', and a combined Carmel and Adventure Tour. There are also options to hire electric bikes.
You can keep up with all their latest action on the Lakeland Segway Twitter page too.
2. How much does hiring a segway cost?

Prices for a segway tour range between £40-£80 per person, depending on length of the tour.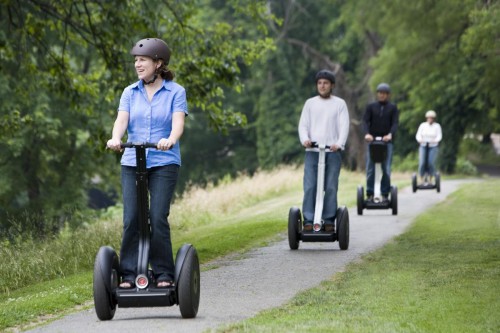 3. What clothes do I wear?

Whatever you're most comfortable in.
Like any trip to the Lake District, it is recommended that you wear waterproof layers to ensure protection against all the elements. Additionally, it's a good idea to wear comfortable shoes as you will be expected to stand for 60-90 minutes at a time.
Flip-flops and sandals will likely be unsuitable. Instead, choose a pair of shoes with a strong grip - like trainers or hiking boots.
4. Are segways safe?
Your segway provider will hire out helmets and any other protective clothing you may require during your segway trip.

5. Are segways suitable for older people?
Segways are often seen as a less strenuous form of travel, especially when compared to walking.
However, they still require the individual to stand for up to 90 minutes at a time - something that can be difficult for older people or those suffering from health problems. As a general guide, segway users will have to alternate their weight on both feet and lean side to side throughout their journey.
So, if you feel comfortable with this level of physical activity, then a segway trip should be perfectly manageable.

6. Are there any other restrictions?

In the interest of safety, segway users must weigh a minimum of 45kg. There is also a weight limit of 110kg.
Furthermore, anyone between the age of 14-16 will require a parent or guardian to sign a consent form prior to using a segway.

Segways in the Lake District

Offering a fun and exciting way to get around, segways are taking the Lake District by storm - and it's not hard to see why.
So next time if you fancy taking a stroll in the hills, why not try renting out a segway and exploring the beautiful Cumbrian landscape in an entirely new way?
You might just catch the segway bug too.
If you want to read about the Lake District's events and opportunities first, then follow us today on Twitter and say hello!