7 Rare and Beautiful Animals To Discover in The Lake District
When did you last see a red squirrel? Or an osprey soaring over the lakes and woodlands of England?
The Lake District, with its vast and diverse landscape, is home to a range of beautiful animals that breathe warm and charm into Cumbria. From the red squirrel, to the famous osprey, and even otters - the list is practically endless.
So, if you're planning on taking the trip to the Lake District and love animals, we've created this blog about the creatures that you have to see.

Red Squirrel
Perhaps the most iconic creature of the Lake District, the red squirrel is a much loved resident of our beautiful woodlands and gardens.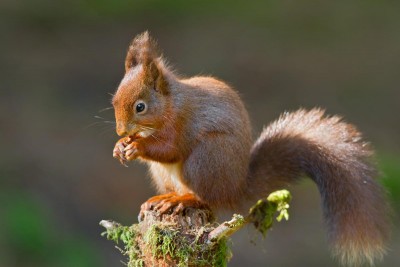 Image sourced from wikipedia.
Despite its shyness, it is possible to catch a glimpse of the red squirrel in Dodd Wood and Whinlatter Forest. Both these wonderful locations offer the perfect excuse to dig out the hiking boots, pack a picnic, and dust off the binoculars. But don't necessarily expect to see a red squirrel straight away.
Today, it is estimated that only 5,000 red squirrels roam Britain - making these bushy-tailed beauties an endangered species. And without proper conservation, there is a fear that this native icon could be extinct within 20-30 years in Britain.
If you would like to do your bit for the red squirrel, or simply learn more, you can sign up to the Red Squirrel Survival Trust.
Otter
In the 1980s, there was widespread fear that the humble otter had disappeared entirely from Britain's aquatic habitats. But there has since been a revival of these glorious creatures, as they once again venture into our lakes and rivers.
Visit the Eden Valley or Derwentwater to see these lovely animals playing and relaxing in the sun. Summer is definitely the best time to try your hand at otter spotting - and we always recommend that you keep a safe distance to avoid disturbing the otters too.
Just remember to have lots of patience!
Osprey
Characterised by their white underparts, long wings, and sharp beak, you could be forgiven for believing the stunning osprey was a large gull from a distance.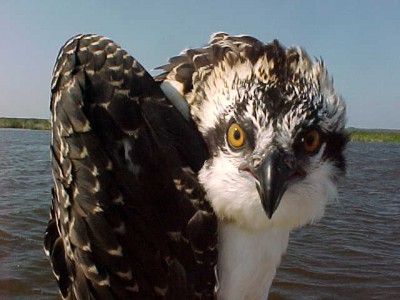 But this bird is actually very distinctive in the Lake District, with numbers dwindling following years of illegal hunting and trapping.
If you aren't lucky enough to see an osprey in the wild, however, then never fear. The Cumbria Wildlife Trust has set up a wonderful live-action webcam feed to showcase its famous osprey couple. You might even get a chance to see their three chicks.
Jellyfish
No, you haven't read this incorrectly.
In the peak summertime, when the weather is warm and the air is freshly salty, the Cumbrian coast is home to jellyfish. Ranging anywhere between 5cm - 40cm in length, these translucent beauties can be found in harbours and beaches along Cumbria's stunning coastline.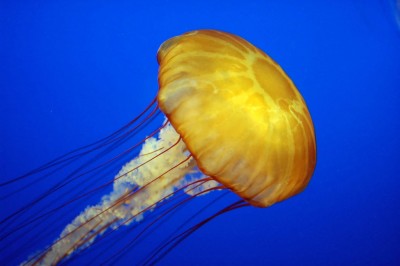 Of course, jellyfish might be pretty to look at - but it's certainly not recommended that you approach one up close. The moon jellyfish is relatively harmless (although it will deliver a mild sting), however, others can still pack a punch.
Red Deer
If you would prefer to stay very much on the mainland, then perhaps an afternoon of red deer spotting will be just the fix.
These majestic creatures can be found in Grizedale Forest and Rusland Valley, making both locations a welcome retreat from the hustle and bustle of the Lake District in peak season.
This red deer is also one of the most impressive indigenous mammals in Britain - and is certainly the biggest, measuring between 100-130cm in height. But don't expect to stumble across these lovely red-haired animals in winter. As the seasons change, their summer coat changes colour and the red deer actually turns grey.
Visitors can book specialist wildlife experiences if they want to improve their chances of stumbling on a red deer.

Ring Ouzel
For anyone who loves bird watching, then the Lake District is a true haven.
Cumbria is home to hundreds of different bird species - however, one of the most special is the ring ouzel. With a black body and distinctive white chest, the ring ouzel is not unlike the common sparrow.
Between April and July, these lovely birds are in breeding season and can be found in gorges, streams, and protected woodland areas for song-posts.
And if you're lucky enough to experience some Lake District hiking this summer, then definitely keep an eye out for the ring ouzel.

Meerkats
Okay, so there aren't really meerkats in the Lake District.
But if you love these inquisitive and fast-footed creatures as much as we do, then you'll have to visit the Lake District Wildlife Park.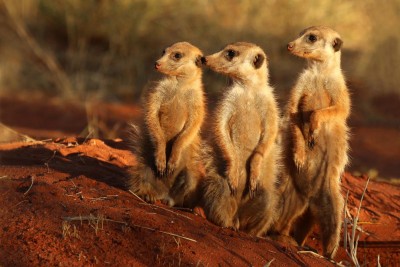 With a fantastic range of animals on offer - from wildebeests, to gibbons, and even lynes - this is a treasure trove for animal lovers.
If you are really particularly adventurous, you can also arrange a private meerkat experience with on the park's experienced keeper. There is even an opportunity to take a hawk for a walk - how amazing is that?
Animals to see in the Lake District
Ever since Beatrix Potter put pen to paper and imagined the fantastic world of Peter Rabbit, the Lake District has been synonymous with animals.
So if you're planning on visiting this wonderful destination this summer, then we heartily recommend that you take the time to see the Lake District's unforgettable wildlife.
Especially if you're travelling with inquisitive little ones.
Share you thoughts on Twitter @HideawayHotel and show us your better nature photographs!