7 Reasons To Visit The Hideaway This Twixmas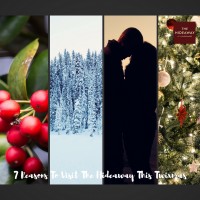 When it comes to Christmas, few people take the time to appreciate just how relaxing a Twixmas break can be. But here at The Hideaway, we love welcoming visitors at this time of year!
Twixmas, no it's not a day to celebrate your favourite chocolate covered biscuit bar, but the period between Christmas and New Year - from the 26th to the 30th of December. The term comes from the old English phrase 'Betwix'– meaning the middle position.
These are the days where you would usually spend time eating leftover turkey and chocolates., but why not do something a little different this year and head out on a Hideaway adventure?
We've got eight reasons below as to why you should take the plunge and book a getaway trip this Twixmas!
1. A break from the festivities
When Christmas finally descends, it's a little too easy to get caught up with all the frivolities that you forget that Christmas is actually supposed to be a relaxing break.
Well, a Twixmas holiday puts an end to that.
Taking a trip during these spare days is all about taking a break from the busy festive season and relaxing. And what better way to do that than with a few nights stay at our luxury, peaceful retreat?
2. A treat for you and your loved one
Christmas is about treating one another - so why does this need to end on December the 25th? A Twixmas break will allow you to keep giving even when the big day is over.
What better surprise could there be then telling your loved one to pack their bags on boxing day? The fun doesn't need to end even though Santa has been and gone - and it'll certain make your significant other feel loved.
3. There's so much to see and do
Despite the fact it's Christmas, there's still so much to see and do in the Lake District. Whether you're visiting Lake Windermere or going for a lovely winter walk up Orrest Head, there are so many fun activities to partake in during Christmastime.
As well as outdoor activities, there are also some indoor delights to enjoy. If you fancy a trip to the theatre during your Twixmas break, The Emperor and The Nightingale has both matinee and evening showings throughout Twixmas. Take a look at their availability here.
If a visit to see some wildlife is more your thing, the Lakes Aquarium is also open. It's a great afternoon out where you and your loved one can see everything from excitable otters through to reptiles and a variety of fish.
4. It's something to fill those extra days you have spare
There's always a bit of a lull between Christmas and New Year - so why not fill it with something exciting?
Cast off the re-runs of Home Alone and Harry Potter because it's time you had an adventure yourself. Head out to The Hideaway and enjoy tea and cake every day you stay. There's also plenty of wonderful shops to visit within walking distance - and Lake Windermere is just a 30 minute walk. So go on, be a little bit different this Twixmas and make some memories.
5. It's the perfect time to explore a new area with your loved one
Life's all about exploring and new experiences.
But you don't need to travel for months on end to have an enriching experience. Finding days like the lull between Xmas and NYE is the perfect excuse to go and explore somewhere new.
The Lake District is the UK's second biggest national park, and as you can probably tell from the title, there's lots of nature to be explored here. There's always something new to discover or some beautiful views to take in.
We're also full to the brim with lovely walks. So wrap up warm, put on your scarf and gloves and go on an adventure!
6. The Hideaway is a romantic haven
Fancy a little romance this Christmas? Well, we've got a solution.
Everyone knows the romantic aspect of Christmas can easily be lost amongst cooking a turkey to feed the whole family and looking after grandma or your little ones.
An escape to the Hideaway gives you and your partner the chance to reconnect and focus on one another, despite the Christmas rush. It's time to fall in love all over again with one of our luxury hotel rooms as your retreat from the world.
And if you really want to do something romantic, we can also provide chocolate dipped strawberries and champagne!
7. We're the perfect place to stop on the way to Hogmanay
Travelling up Scotland for Hogmanay (the new year celebration) can be tiring. So why not set out a little earlier this year for the 2016 celebrations and enjoy a stay in the Lake District whilst you're passing?
The Hideaway makes for the perfect break place, and because we're a luxury boutique property you can be sure you'll have a restful night in one of our comfortable rooms - as well as a chance to fill your boots at breakfast with our hearty dishes!
So go on, treat yourself and book a Twixmas stay at The Hideaway this year.
The Hideaway At Windermere
Fancy staying with us? Explore our availability right here.
You can also take a look at our gorgeous rooms by clicking here, and discover what offers we have available during the last quarter of the year.
We hope to see you soon!
Like this? Why not explore our Woodland Walks this Autumn in the Lake District?