Beginners Guide to Summer in the Lake District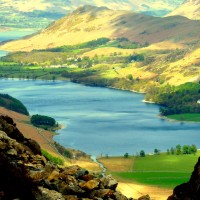 We are now in full summer swing at the Hideaway at Windermere, and it's the perfect time for a well-earned break.
As we are certain we will be seeing many new visitors who are first timers in the Lake District, this guide is for those newcomers to get the lowdown.
Famous for its lush picturesque scenery, vast Lakeland Fells and home to the largest lakes in the UK, Cumbria's Lake District is the ideal place for visitors looking for a relaxing break from the stresses of everyday life. The beautiful scenery is the perfect place to unwind, and the abundance of local attractions will be sure to keep all visitors entertained.
Breath-taking scenery
First off, the greenery and huge bodies of water in the Lake District are no mere coincidence; as locals know all too well, it is wholly possible to experience all four seasons in one day and unpredictable showers are commonplace. However, as the worst of the rain is concentrated around the start and end of winter, the best weather is around May to August, also the beginnings of autumn in September. Despite this it is always advised for visitors to be prepared with extra layers and waterproofs, should things take a turn for the worse!
For those enthusiastic about hiking and walking trails, the Lakeland Fells will definitely be an exciting proposition. As these are not the easiest for beginners, it is recommended that prospective walkers are well prepared. A detailed map is essential, as well as good waterproofs, water and high-energy foods to ensure you get the best experience possible. Visitors unfamiliar with hiking may want to get onboard with a guided walk or bike ride provided by the Lake District National Park Authority; check out dates and routes on their website. They also provide details of routes for those with limited mobility, called Miles without Stiles.

If you find yourself needing advice on local and national attractions, transport, walking or cycling, information centres are available at Keswick, Bowness and Ullswater, with friendly staff to aid you in getting the most out of your Lake District break.
As with many locations, it is advised to book attractions and tours in advance in order to avoid queues and ensure you don't want miss out on anything. There are many popular attractions locally with something that will appeal to everyone, from the coast aquarium and bird of prey centre to sprawling ancient castles. Visitors with an interest in literature will be delighted by the range of historical attractions related to classic works by the likes of Beatrix Potter and poet William Wordsworth, who found inspiration from the beautiful landscapes.
Finally, be certain to keep up to date with our blog here at The Hideaway, for upcoming local events and other interesting articles tailored to make your Lake District break as exciting as possible. Have a browse of our latest news to ensure you don't miss out!