The Best Christmas Events in the Lake District 2016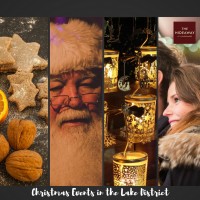 Dark nights and winter coats can only mean one thing - Christmas! And alongside this magnificent time of year are some fantastic festive activities that you don't want to miss out on in the Lake District.
We've pulled together the very best of the best in our blog so that you can have the merriest Christmas you've ever had - so what are you waiting for? Immerse yourself in Christmas joy for 2016 - Cumbria style!
1. Hawkshead Christmas Fair & Beer Festival
We all enjoy a little tipple at Christmas, so why not link the two together with a visit to the Hawkshead Christmas Fair & Beer Festival?
On Saturday the 3rd and Sunday the 4th of September, you'll be able to explore more than 50 stalls, be thrilled by the street entertainers, enjoy some carol singing, marvel at the Christmas lights - and even witness a fantastic Lantern parade.
Pubs will also be serving local ales and seasonal foods, allowing you to really indulge your inner Christmas lover! There'll even be discount parking on the day - what's not to like?
2. The Rat Pack at Christmas in Kendal
We're back at the Brewery Arts Centre for this next event, but this time it's for an evening of music.
The Rat Pack will be performing a live, Christmas-themed show on Friday the 2nd of December. Tickets are £20 per person, and you can also opt for a VIP table with front row seats for £25 p.p.
You can expect classic songs from Frank Sinatra, Sammy Davis and Dean Martin, and Santa himself might even make an appearance! It's a festive night you're sure to remember for a long time to come.
3. An Evening with John Kirkpatrick, Carolling & Crumpets
For a relaxed evening of festive fun, carols, and traditional Christmas folklore, an Evening with John Kirkpatrick is just the ticket!
John will be performing on his usual squeeze box, singing an array of carols to bring the room alight with Christmas at the Skirwith Village Hall in Penrith on Friday the 16th of December.
Why not do something a little different this Christmas, with this event? Tickets are £10 per adult, and you can book online right here - you won't regret it!
4. Made in Cumbria Christmas Farmer's Market
We're incredibly proud of the local foods and delicacies produce in the Lake District, which is why the Made in Cumbria Christmas Farmer's Market is one of our favourite events on the festive calendar!
This farmer's market features the very best of local produce, and dates back to 1189. You'll find traders of all kinds at the historic marketplace, each one offering fantastic festive produce.
The market will be hosted inside Kendal's Market Place, and it'll be there on the 25th of November and the 23rd of December, so if you miss the first one don't worry - you can stock up on all your Christmas essentials on the 23rd!
5. Grasmere's A Christmas Carol
Nothing says Christmas quite like a festive trip to the theatre, and what better story to go and see this year than that of A Christmas Carol?
One of Charles Dickens' most famous pieces of work, A Christmas Carol sees grumpy businessman Scrooge visited by some ghosts that make him realise the true meaning of Christmas!
Taking place between the 15th of December and the 17th of December, the play is being put on by The Grasmere Players at the Grasmere Village Hall. Tickets are £8 per adult, and this theatre group have been putting on shows, and bringing smiles to the faces of their audiences with entertainment, since 1949 - so you can expect an amazing show!
The Hideaway at Christmas
We have some fantastic festive offers here at The Hideaway, providing the perfect base for your Lake District Christmas needs.
To find out more, take a look here and explore our availability. Each day you stay with us, we'll also give your free cake, tea and coffee! What's not to love?
Escape to The Hideaway this Christmas and have a romantic break with that very special someone in your life...