The best places for a winter tipple in the Lake District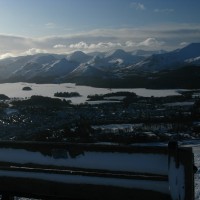 It's the time of year for long walks and snuggling up in front of an open fire, with a winter tipple. The Lake District, and Windermere in particular, boasts some of the most attractive 'chocolate-box' pubs in the country. Our favourites, which we highly recommend to our guests, are as follows:
Hole in T'Wall
A wonderful old pub (built in 1612) sits just down the road in Bowness-on-Windermere, with stone floors and stuffed animals adorning the walls. This fantastically named pub boasts local beers and ales and a menu bursting with traditional pub food. There's an old jukebox, a huge open fire and a cosy ambience that can't be beaten. Perfect in every way!
Walk: 24 minute walk
Distance: 1.4 miles
Strawberry Banks (Mason's Arms)
A visit here will introduce you to beautiful views of the Winster Valley (which this pub overlooks). This is a truly traditional pub, with low-beamed ceilings, roaring fires and quirky furniture to park yourself upon following a long walk in the Cumbrian fells. The food is local and beautiful, the wine and beer is varied. A trip to this award-winning pub will brighten even the darkest of winter days.
Walk: 47 minute cycle
Distance: 6.8 miles
@StrawberryBank
Hawkshead Brewery
If beer is your thing, there is no finer establishment than the Hawkshead Brewery. Distinctive, flavourful beer is handmade by people who love beer and use traditional techniques with a modern twist. You can visit The Beer Hall and drink the beer where it is brewed. It is open 7 days a week and is spread over two floors, with comfy sofas to sit back and relax in. There are windows everywhere so you can see right in to the brewery itself. The Hawkshead Brewery is a change from a traditional pub, but equally as interesting and welcoming. We highly recommend a visit!
Walk: 25 min cycle
Distance: 4.0 miles
@HawksheadBrewer
Bodegas, Bar & Tapas Bar
A great atmosphere, delicious cocktails and tasty, beautiful tapas. Bodegas is the perfect place to stop off at in Bowness-on-Windermere on your walk back to The Hideaway. The staff are friendly and the atmosphere is one of fun and happiness. This is a great little place to spend a cold, winter afternoon or evening. It's guaranteed to introduce some warmth into your life especially when summertime feels like a world away.
Walk: 24 min walk
Distance: 1.3 miles