Bring Your Romantic Spark Back With A Lake District Break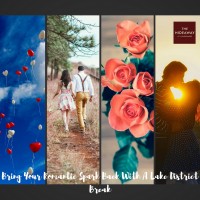 It's easy for life to get in the way of your relationship. From making the kids dinner, to working every hour under the sun, there's little time for romance by the time you and your partner collapse on the sofa for the night.
But it's so important for couples to keep this romantic spark alive. It's the thing that brought you together when you first met, and it's also the thing that will keep you together for life.
So how do couples successfully carve out time to keep that romantic spark alive? One simple solution is to escape with a Lake District break.
We're going to provide an all-encompassing guide to taking a Cumbrian holiday below, and how it can make you feel more in love than ever before.
Romantic Moments
During your trip, there will be plenty of little romantic moments that will take your breath away. Not always something complicated, romantic moments can range from something as small as having your own private space to a chance to make your own decisions for once.
Enjoy Your Own, Private Space
Imagine switching off from the world, just you and your partner alone at last. Once you close that hotel room door there will be no interruptions, and for the first time, it will be you, your loved one and a delicious silence that you'll be sure to savour every moment of! Feel like it's just the two of you alone in the world and take a moment to really appreciate one another. It's sure to make you feel extra loved up.
Make Your Own Decisions
The best thing about taking a holiday to rekindle your romantic spark is that you can make it as action-packed, or as action-less, as you would like.
If you want to lounge in bed most of the day - go for it! If you want to explore the Lake District countryside, then go for that too!
The point is that it's a choice that's left down to the two of you, and it's entirely in your control how you both live out your holiday days. Bliss.
Escape From Distractions
Have you ever found some time for you and your partner to have a date night, but still find yourself looking at your phone? It's distractions like this that can be hard to let go of. But why not make your Lake District holiday different?
Agree to both put your phones in a drawer and leave them there the entire break. This will force you to stay in the moment, focus on your relationship, and give you a well-deserved break from our constantly-connected way of life.
A Chance To Talk About The Future
Because life is so busy, it's easy to forget to look at the bigger picture and simply stumble through everything day at a time. However, with a trip to the Lakes, you can carve out some time to reflect on where you are in life, and where you want to go.
Wanting the same thing as your partner is incredibly important to the longevity of your relationship. Find out if you're still on the right page and bridge any gaps that may have occurred as you've grown together. You'll be feeling on the same wavelength again before you know it.
Romantic Attractions
Romantic moments don't have to just be down to the two of you. These moments can also spread out into the activities you decide to take part in whilst you're away.
The Lake District is full of places where the two of you can experience something special together, so if you want to feel the love on your break, maybe schedule a few of these attractions into your holiday.
The Lakes Aquarium
Remember when you first started dating? The way you used to go out and see things and do things you wouldn't usually do? A visit to the Lake District Aquarium can bring back that fun, unexpected romance.
Relive your youth as you marvel at a range of underwater creatures and explore land dwellers too from otters to reptiles. It's a quirky, fun afternoon that will make you feel young at heart.
Horse Riding & Quad Biking
Being part of a new experience with your partner can really strengthen the bonds. So why not do something different and try one of the activities available from Rookin House?
From horse riding to quad biking, whatever your interests, there'll be something that will appeal to the two of you.
Take a look here and explore what else is available on the website and find out how to enquire, you'll be spoilt for choice when it comes to activities!
Coniston Boating Centre
One of the key parts of the Lake District is, of course, our lakes. So why not take full advantage and spend some romantic time on the water?
Visitors can take cruises on the likes of Lake Windermere, and they can also rent out their own boats and explore for themselves.
If this is something you and your partner might enjoy, then why not take a look at what Coniston Boating Centre have to offer? They also provide bike hire if you're an active couple who would love to have the Cumbrian wind whipping through your hair.
Your Romantic Trip
Here at The Hideaway, we really adore the chance to make your romantic Lake District break that little bit extra-special. Whether you want petals scattered on your bed or a plate of chocolate-dipped strawberries on arrival, we'll endeavour to make sure it happens.
To find out more about booking a stay, give us a call on 01539 443 070. You can also take a look at our availability here and book online.