Christmas is coming - and you deserve a break! It's time to make the most of our winter holiday offers.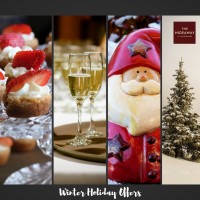 There's nothing more satisfying than visiting the website of your favourite Lake District hotel (we like to think that's us) and coming across some AMAZING festive offers. So we thought why not give our customers what they want? A fantastic break in the Lake District with the perfect prices to match!
Now this is for your eyes only, but we're pleased to report that Santa has already been to The Hideaway this year, and he's been tinkering with our prices - and we're certain you'll be very pleased with the outcome!
So if you're not too giddy to carry on reading yet, let's head straight into what this blog's all about - saving you money and also giving you a chance to escape the hectic Christmas rush at our stunning, boutique property.
Festive Fizz Weekends
Are there two words that go better than Festive Fizz? We think not! So how about a full weekend of it?
Our pre-Christmas breaks are an absolute favourite with guests. We provide a sanctuary from the hustle and bustle of the festive period, and you can head down to the relaxing Lakeland shops or perhaps venture on a mind-clearing walk through with a truly inspiring winter backdrop.
To get access to this and more, all you need to do is book a weekend stay on either the 2nd & 3rd of December or the 9th and 10th, and you'll get all the below goodies:
Arrive on Friday to some scrumptious tea, coffee and homemade cake

A fantastic, award-winning Full English Breakfast each morning

A festive fizz cream tea with scones, clotted cream, festive cake and a glass of prosecco

A relaxing stay at The Hideaway!
To claim the offer, book your stay at The Hideaway here, and make sure you insert 'Festive Fizz Weekend' into the comments box. This offer is only available on our website, so make sure you book direct!
Winter Bargain Breaks from £69 - Ends Friday 8th December
Our second offer comes in the form of our reduced room rates! Up until the 8th of December, you'll be able to find prices as cheap as £69 per night, a true treat for a stay in a boutique hotel.
The rooms are flying off the shelves, so be sure to take a look here right away to secure a dream stay at The Hideaway for you and someone special. You can also think of it as an early Christmas present for yourself if you like... We're sure that you deserve it!
And remember, you can go the extra mile with champagne, flowers, rose petals scattered on your bed, and chocolate dipped strawberries delivered directly to your room. You can even order a birthday cake if your special day is nearby.
We do whatever we can to make sure your stay at The Hideaway is one to remember. Don't believe us? Check out our 5 star TripAdvisor page!
Twixmas Breaks
Pre-Christmas isn't the only time to get away for a break. So too is post-Christmas!
Why not escape between the 27th of December and New Year's Eve and make the most of all the bank holidays in between? It'll mean you'll have more annual leave days later on in the year, too.
We have some amazing deals on offer, as well as a blog detailing how best to spend your magical Twixmas break in the wonderful Lake District. We'd go as far to say that there really is no better time to shake up Christmas tradition and have a festive adventure.
Be sure to explore our availability, and remember that you'll get free coffee, tea and cake each day you stay with us - as well as access to our amazing breakfasts.
You'll even be able to use the local spa facilities at the McDonald Old England Hotel - which is exclusively open to people who stay at The Hideaway. Just remember to book in advance if you fancy a dabble in any of the relaxing spa treatments.
The Hideaway And You
We're always posting great offers on our website all year round, so even if you can't manage to squeeze a festive break into your Christmas budget, we'll have brand new offers in the New Year that you won't want to miss.
Make sure you follow us on Twitter and Facebook to keep up to date with all our latest news and holiday deals.
We hope to see you and your loved one in the near future making magical memories at The Hideaway At Windermere! And to get you into the holiday mood, why not explore The Top 5 Historic Houses and Gardens in the Lake District and start planning your trip.