Favourite Lake District Pub Walks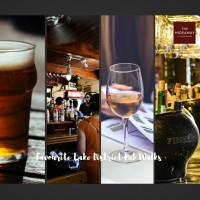 Heading out on a Lake District walk is one of the essential parts of any amazing trip to Cumbria - but what would a walk through nature be without a few cheeky pub stops along the way?
The perfect place to catch a rest and some refreshments, a pub along a walk route makes for a very special afternoon out indeed, one rich with Lake District heritage.
If you fancy a walk that allows for some time to have a pint and some tasty pub grub, there are a few key routes you need to consider on your walks. We've pulled them together below to make sure you always have a walking route and pub to hand!
1. Aira Force to Pooley Bridge
For a thorough day of walking, we recommend venturing from the Aira Force waterfall to the Pooley Bridge trail. This walk is 6.5 miles in length, so should take between two and three hours one way, but once you get to Pooley Bridge you will be able to stop off at The Crown Inn and recharge your batteries before heading back to Aira Force once more!
The Crown Inn also has a beer garden, so if the weather is particular lovely you'll be able to relax outdoors. Food is served from 12 onwards and it's all locally sourced, making The Crown Inn a fantastic place to refuel before the walk back.
To see the route on Google and explore it in more detail, please follow the link here.
2. Howtown to Patterdale
This walk will lead you part way around the second largest Lake in the Lake District, Ullswater. As you can imagine, there is some really beautiful scenery available along this route, and it takes around 2 hours and 40 minutes to walk one way, and is a total of 7.5 miles.
This will leave you with plenty of time to stop off in Patterdale at the White Lion Inn to grab some food and refreshments! The pub has great reviews on Google Local, and they also serve a fantastic fish and chips if you're looking for a large meal to refuel with.
To find out more about the route, take a look at it on Google Maps here.
3. Grasmere
If you're looking for a circular route that will give you the chance to start and end your walk in the same place without doubling back at any point, then this trail here from TGO Magazine could be ideal for you.
It's 14km in total, and takes around five hours to finish. And after your walk, there's also the obligatory pub to be found in Grasmere too! We recommend that you take a visit to the Tweedies Bar. This pub has a modern feel to it, yet it's still a relaxed atmosphere perfect for after a trek around some of the Lake's finest scenery.
4. Wasdale Head to Nether Wasdale
Another amazing walk filled with some striking water views is the pathway between Wasdale Head and Nether Wasdale.
It takes around two hours there and back, so makes for a lovely afternoon pilgrimage through Cumbrian nature. And whilst you're in Nether Wasdale, be sure to visit The Screes Inn to get some grub and refreshments on your trip back. There's nothing quite like a lovely afternoon wandering through the countryside and then kicking back at a comforting, local Cumbrian pub.
What could be better?
5. Rydal to Loughrigg Fell
Our last walk will take you along the picturesque rivers Rothay - and the journey between Loughrigg Fell and Rydal is a great walk for those looking for a short yet joyous route.
This pub walk comes in at 2.1 miles one way, and it takes around 56 minutes to get there. We recommend a round trip that will take a little over two hours to complete, and the journey can be found here on Google Maps.
What's great about Rydal is that there is a pub known as the Badger Bar, which makes for an excellent place to grab some food and drink after your journey.
Relax in their comfortable surroundings after taking in the magnificent views of their walks. It'll certainly make for a relaxing afternoon of nature!
The Hideaway at Windermere
Need somewhere to rest your head after a hard day or pub walking? Why not come and spend the night at The Hideaway at Windermere?
Our adult-only, boutique luxury hotel is the perfect place to ensure a great night's sleep and a wonderful breakfast in the morning, too.
Check our availability for your trip here or have a browse of our rooms. And remember, don't forget your free coffee and cake every day you stay with us!
If you liked this blog, why not take a look at our recommendations for hiking in the Lake District with public transport?