A Guide to the Castles of the Lake District
The Lake District is a magnificent destination for those interested in history. Full of beautiful ruins of past gone majestic castles, a trip here will certainly enlighten and entertain in equal measures.
Below we've listed the best sites to visit if you'd like to experience a little slice of history on your next visit to the Lake District.
Brougham Castle
Located in Penrith, Brougham Castle is a wonderful site to visit for a beautiful historical experience.
Built back during the early 13th century, the castle is located alongside a lovely stretch of water making for a splendid walking place indeed.
In terms of royalty, Edward the First visited the castle - and the building itself is half built upon a Roman Fort.
Make sure you take a visit to Brougham Castle if you're interested in your 13th Century history and are looking for an interesting historical place to visit.
Muncaster Castle
In the middle of some magnificent nature lies the wonderful Muncaster Castle. It makes for a great place to visit to really become immersed in tales of the past.
There's a map available to download so you can plan what you'd like to explore when you do visit, and you're even allowed to bring dogs to roam around the castle's gardens.
In terms of things to see, there's the castle and gardens itself, and there's also a Hawk and Owl Centre. Be sure to visit this castle for a splendid historical afternoon during your Lake District break.
Brough Castle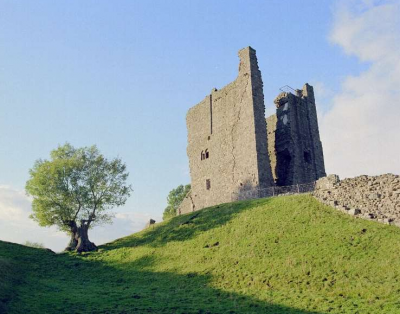 Image sourced from http://www.english-heritage.org.uk/visit/places/brough-castle/
Although it is now ruins, Brough Castle is still an interesting place to explore on your next visit to the Lakes.
The castle was built around 1200, and it was actually damaged greatly during a Christmas party in 1521! Lady Ann Clifford eventually restored it, and what remains there today is the ruins of her restoration that have worn down over the years.
It really is a lovely sight to visit, especially when it's a clear day and the sun is shining through!
Kendal Castle
As one of the closest castles to the Hideaway out of all of the options on this list, we thoroughly recommend a visit to Kendal Castle.
The castle is now a ruin and has been ever since the Tudor period, and it's an intriguing place to explore. It was originally built in the 12th century for the barons of Kendal, and now the castle is home to some displays of fantastic medieval objects.
There are some wonderful views all around Kendal castle, so don't miss out if you're visiting.
To find out more about the castle head on over to the website.
Castle Howe
Kendal isn't just the hometown of one castle. Infact, it's actually home to two, the second being Castle Howe. This building dates back to the 11th century, and it's actually a motte and bailey castle.
In the 13th century it was sadly abandoned, but we think even in its ruined form it makes a pleasant place to visit for a wondrous dose of exciting history.
This castle, as some may be aware of it's type, resides on a hill. So keep this in mind if you're planning on visiting!
Castles in the Lake District
There are many other castles in the Lakes beyond the ones we have mentioned, but if you do choose to venture out and explore the history then you're going to need somewhere to stay.
That's where we come in. Here at The Hideaway we offer access to some beautiful rooms and free tea and cake every day you stay with us!
Take a look at our availability online - and if you have any questions or queries feel free to give us a call on 01539 443 070.