The Hideaway Guide to Luxury Dining in the Lake District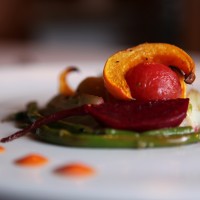 Despite its close association with beautiful natural scenery, the Lake District is also a culinary hub - one that has transformed British cuisine in some of the most innovative and exciting ways possible.
That's why we've created this short guide to the best and most indulgent restaurants that are right on our doorstep. From afternoon tea at Holbeck Ghyll, to decadent pub grub at the Drunken Duck, and arguably the best gourmet establishment in the UK, L'Enclume - Lake District visitors are truly spoilt for choice.
And here are some of our favourites.
Offering a mouth-watering selection of exquisite food and a seriously impressive wine list, The Samling epitomises modern fine dining at its best.
In fact, The Samling wine cellar is so impressive, it was listed in the top 500 wine lists in the world.
The menu evolves alongside the changing seasons, but this summer you can expect to enjoy everything from scallop carpaccio, to fennel scented stone bass, and dehydrated muscovado sponge cake.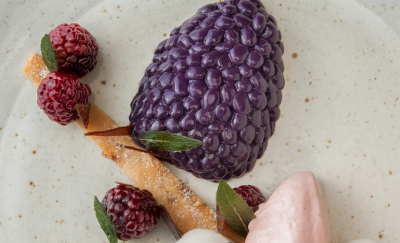 Image courtesy of www.thesamlinghotel.co.uk
To make things even more tantalising, The Samling even has its own kitchen garden to grow fresh and delicious produce. It's here that you'll find some of the most incredible fruit and vegetables in the Lake District - thanks to The Samling's international seed exchange programme. This world-wide community of restaurants swap and share their seeds to encourage natural, sustainable, and tantalising raw produce. And this passion for excellent quality is transferred into every aspect of its culinary extravaganza.
Arguably one of the best restaurants in the North, Holbeck Ghyll is definitely amongst our favourites.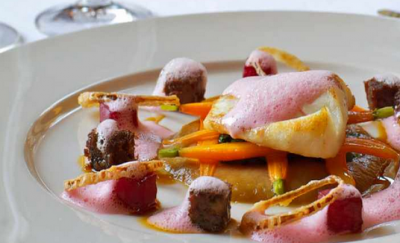 Image courtesy of www.holbeckghyll.com
This Michelin star restaurant provides a gourmet experience like no other - with dishes such as poached rabbit loin and Cumbrian lamb at the heart of their seasonal menu.
But if you're short for time, then try the beautiful and delicious afternoon tea. Offering impeccably-cut sandwiches, handmade cakes, and indulgent treats, this is a fantastic way to experience Holbeck Ghyll without sitting down for a full meal.
The views aren't too bad either.
The Drunken Duck may look like just a pub, but don't let exteriors fool you.
This wonderful restaurant is perfect for a lunch or dinner treat, whether you're in the mood for corn-fed chicken and gnocchi, or spiced cauliflower hearts.
However, it's the Drunken Duck's unwavering commitment to sourcing local and sustainable produce that sets it apart from its competitors. Utilising local suppliers as wherever possible, the Drunken Duck is a passionate promoter of all things green and ethical.
That's why it is one of the most popular restaurants in the region.
The Old Stamp House has a formidable culinary reputation in the Lake District, but it's certainly for all the right reasons.
According to the sample evening menu, visitors can expect to try some of the best local produce the Lake District has to offer - such as:
Lancashire quail

Ravenglass crab

Cartmel Valley roe deer

Whitehaven turbot

Cumbrian gingerbread
And if you're less inclined towards these carnivorous delicacies, there is also a vegetarian menu available upon request.
Interestingly, the Old Stamp House is also located upon the workplace of poet William Wordsworth, who worked at as Distributor of Stamps between 1813 - 1843. So if you have a passion for great food and local history, then you'll certainly love the Old Stamp House.
L'Enclume is famous across the United Kingdom for its superb food, thanks in part to winning best restaurant in the 2014 Good Food Guide.
With no set menu, no two visits to L'Enclume are ever quite the same. Instead the chefs at L'Enclume work with the produce that's on hand that day, allowing them to create beautiful and inspired dishes according to availability - not demand.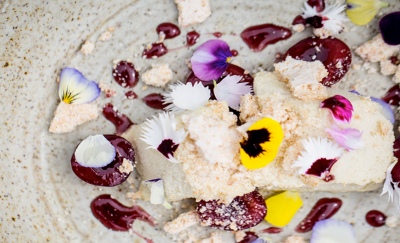 Image courtesy of www.lenclume.co.uk
Visitors can sample the incredible 21-course menu and enjoy the relaxed surroundings without booking months in advance too. Nestled in the heart of Cartmel, L'Enclume is easily accessible but comes without all the hustle and bustle of its two-Michelin star competitors in London.
So if you love the sound of slow-roasted pork and pickled carrot soup, then treat yourself to L'Enclume.

Luxury dining in the Lake District
The Lake District is home to some of the most delicious fresh produce available in the British Isles. So it's only natural that we should have some wonderful restaurants to really make the most of it.
So, next time you're in Cumbria and looking for an excuse to celebrate, have a look at some of the legendary restaurants above. You won't find anything else like it across the North.
If you would like to share your favourite culinary experiences in the Lake District, then tweet us today @HideawayHotel and join the discussion.