The Lake District Woolfest Says Hello to Summer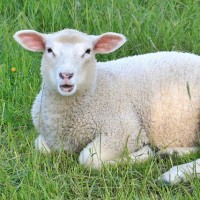 This Friday 26th-27th June, Woolfest opens its doors and is here to celebrate everything soft, fluffy, and related to local wool production in Cumbria.
It is a wonderful celebration for those who love the countryside - including a few tasty treats and the opportunity to buy some fantastic souvenirs along the way too.
But this year, Woolfest is going to be bigger and better than ever before. So we've created the following blog for anyone who would like a sneak-peak before the festivities kick off.
Animals at Woolfest
It's Woolfest - so you'd expect to see a few of our favourite sheep dotted around the event. This year, we are pleased to announce that Border Leicesters, Hebridean, and Portland sheep will be making an appearance in the main event.
However, there will also be plenty of other animals to coo over and adore.
Woolfest 2015 will play home to angora rabbits, alpacas, and even some cashmere goats. Visitors will have the opportunity to learn more about these amazing animals from the farmers and owners themselves, providing expert insight into caring and protecting for our unusual farmyard creatures.
But if you'd prefer to keep things strictly wool-focussed, there will be a Rare Breed Parade for some of the best and most unusual sheep from across the world.
Expect to see everything from the Manx Loaghtan, a rare breed from the Isle of Mann, to the Wensleydale, from North Wales.
Stalls and Shops at Woolfest
Once you've enjoyed your fill of looking at all the varieties of sheep on offer, Woolfest has confirmed a number of exciting and oh-so-tempting stalls to entice shoppers.
So if you're in the market to purchase some locally-crafted rugs, learn how to weave, or just purchase some wool for your knitting ambitions, Woolfest has everything you could ever want. Especially if you love crafting.
Some of the highlights in 2015 include:

If that wasn't enough, there will also be a wonderful marquee filled with tasty food to keep your energy levels up throughout the festival. We recommend that you try the ewes' milk ice cream - delicious!
Main Events at Woolfest
Now on to the main event. In the Woolfest arena this year will be a sheep-shearing demonstrations unlike anything you've seen before. And afterwards, you can take part in the sheep auctions and purchase some raw fleece too!
Beyond that, there will also be lots of workshops to keep the whole family occupied. Learn how to make your own wool products, whilst also picking up some handy skills related to pizza oven building.
We guarantee you'll find something to love.
Cumbrian Woolfest 2015
Sheep-rearing has a long and illustrious history in the heart of Cumbria. That's why we're thrilled that Woolfest will once again be taking centre stage in the local event calendar. This is truly an international event and we can't wait to see what ideas and inspirations come out from this season's festivities.
If you fancy learning more about Woolfest, you can follow the official Woolfest Twitter account and send us a little tweet too!