The Magic of Derwentwater
Here in the Lake District, we have many pools of water for our visitors to enjoy. However, there's one Lake that keeps enticing visitors back with its allure - and that's Derwentwater.
Did you know that it's actually one of the top five places in England to propose? Yes, it certainly is a magnificent place to visit on your travels.
So to discover more about this Lake and why everyone loves it so much, explore our helpful recap below on the magic of Derwentwater.
The History of Derwentwater
Located in the Borough of Allerdale, Derwentwater is to the south of the Lakeland town Keswick. It's a large pool of water, spreading over 3 miles long and 1 mile wide - and it's a magnificent force of nature.
The mountains surrounding this lake are one of the main reasons it attracts so many visitors. With views that will take your breath away, any visit to Derwentwater is a wonderful sight to behold.
The lake itself retrieves its water supply from the River Derwent and takes up part of Borrowdale, which is a Lake District civil parish. It's also 72 foot deep! And with a lake this big, it's no real surprise to find that there's even smaller islands inside it. Exciting indeed.
But what are some of the myths and legends shrouding this beautiful place?
Myths & Legends of Derwentwater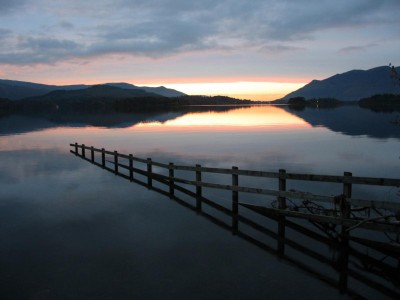 Sourced from wikipedia.org.
There are many spooky ongoings in the Lake District, and Derwentwater is no different. One of the most commonly known stories is about the priest St. Herbert. One of the larger islands in the Lake was named after him, and he took refuge there when he was alive. It's now said his ghost haunts the island.
There's also been death and corruption on Derwentwater, and if the stories are to be believed it is said the sister of Lord Derwentwater met a gruesome end at the lake. It is believed she witnessed how her brother had wrongly gotten access to his riches. Unable to take it anymore, she decided to set fire to his castle. Unable to ever face being caught for this crime, she drowned herself in lake Derwentwater... although some say she went to London instead. We'll let you decide which one you believe.
Derwentwater Nature
Much of the area surrounding Derwentwater is home to forestry, and there are some spectacular nature scenes to be witnessed in this area.
You can walk around the whole lake in 12 miles, and what you may be surprised to discover is that the forestry is actually what's left of part of Europe's temperate rainforest which used to stretch across much of the North West.
In terms of bird life, you'll find them in the marshes where the likes of Sandpipers, Yellow Wag Tails and Snipe reside. It's recommended you keep dogs away from them if you have any with you on your walk. You'll also find red squirrel and badgers in the woodland too!
Lastly, swimming in this lake is the incredibly rare vendace fish, and this is their last known native habitat. There are also trout that call these waters their home.
Events & Things to Do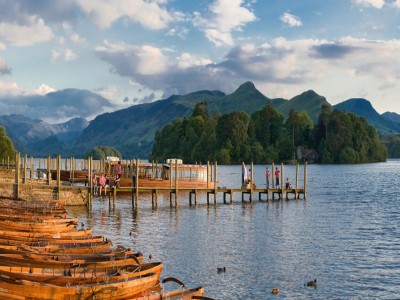 Image sourced from wikipedia.org.
As it's one of the most popular lakes in the area, there's always something to do on Derwentwater.
We've already alluded to walking, and for anyone keen on this, it's a great place to stretch your legs and witness some beautiful sights.
There are also numerous boat trips on the lake, so be sure to keep an eye out for them.
An event coming up is the Derwent Water Regatta hosted this year. Although there's little information about the event so far, we believe the original one hosted in the 1780s was home to horse swimming, live cannon fire and much more! Keep an eye on the page linked above for more details.
Lastly, there's also a Derwentwater Island house that you can visit a few times of a year. The next visit to the national trust property is on the 31st of March 2016. So sit back and relax as you are paddled over in a lovely boat towards this intriguing property. More information here.
Your stay at a Lake District Boutique Hotel - The Hideaway at Windermere
If you're looking for somewhere to stay during your visit to Derwentwater, be sure to explore what we have on offer at The Hideaway.
At our boutique hotel, you'll find stunning rooms, an award-winning breakfast and also free coffee, tea and cake every day you stay with us. It's also home made!
To find out more, give us a call on 01539 443 070. You can also explore our TripAdvisor page here to see what all the fuss is about!