The Royalty Cinema, A Gem in The Heart of Bowness-on-Windermere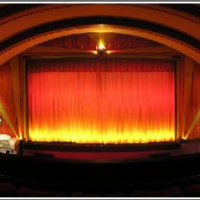 On a dark, rainy evening in Windermere there are some lovely things to do. One of them, just down the road in Bowness, is to enjoy an evening at the beautiful and independent Royalty Cinema.
Built in 1926 and opened as the public hall it was originally designed to provide a cinema, theatre and a place to dance for the people of Windermere. It was renamed 'The Royalty' in 1930 and has remained as such ever since. In 1955, the building was converted specifically into a cinema, the dressing rooms as they were became the foyer and toilets, the 65 seat circle lounge followed later.
This wonderful cinema retains its classic, original features; the façade is as it was, the foyer and auditorium remain structurally unaltered and the service is as impeccable as it has always been. The atmosphere is oldy worldy, you can choose from the velvet seats in either the stalls or the circle, heavy curtains and lighting are reminiscent of old Hollywood. There is always an interval before a film begins where you can be served ice cream by staff carrying traditional trays.
Quite brilliantly, the cinema is also home to an authentic Wurlitzer organ that was made in 1927, adding even further to the feeling of going back in time. If you're lucky you may catch a classic silent film with live musical accompaniment!
There isn't a cozier way of spending a couple of hours lost in a film as the rain beats down outside. The Royalty is a 5 minute walk from us at The Hideaway and is surrounded by a selection of fantastic places to eat and have a drink, it all adds up to the perfect evening in Windermere! Come and stay with us and enjoy the whole experience.