Things To Do On The Infamous Water Of Lake Windermere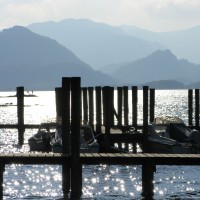 Windermere is England's largest lake and to come here and not feel the lake lapping against your feet or feel the breeze in your hair could easily be perceived as a travesty! It is an incredibly beautiful sight from the shoreline, but from a position on (or in) the lake itself it is even more breathtaking. Views of the mountains, the islands and the bays are spectacular whether you are cruising, swimming or waterskiing. Below are examples of just some of the activities that are available to you that you can get involved in and as a result take away a memory that will stay with you forever.
Cruising
You can combine walking around the lake with a cruise across it, or just cruise along and let the boat do the work for you. There are lots of different options for cruising, you can sail from Bowness to Ambleside, specifically around the islands or you can cruise up to Wray Castle and explore the mock ruins, winding passages and hidden doors. Alternatively, you can just sit back, relax and enjoy a three hour cruise that takes in all the sights. Whatever you choose, you are guaranteed a voyage of beauty.
If you can sail (or would like to learn) then the lake is a gift of pure joy. Just you, your boat, the wind and the lake. Could it be more perfect? There are training centres that are recognised by the Royal Yachting Association such as Low Wood Bay Watersports Centre, Blackwell Sailing and Out Run Sailing where you can learn from experienced and qualified instructors. If you are already a competent sailor, you can hire a dinghy or keelboat and enjoy the lake and the scenery at its absolute finest.
Fishing
Fishing on Lake Windermere is allowed assuming that you have a current Environment Agency licence and follow all of their bylaws. If you follow the rules, there is a huge array of opportunities for fishing for free. Lake Windermere boasts a plethora of fish including brown trout, pike, perch, roach and eels. Even young salmon and sea trout pass through the lake in springtime on their way to the sea. Arctic charr are also present (in declining number) which is considered to be a local delicacy. So, enjoy the scenery and fish to your hearts content on the shore of England's largest and most famous lake. Let us know how you get on!
Water Skiing
If a day of fishing is somewhat sedate you can take to the water with a pair of skis strapped to your feet and prepare yourself for a more adventurous experience. There is a speed limit on Windermere of 10 nautical mph but that is easily fast enough for an exhilarating time on the water. Pop over to the Low Wood Bay Watersports Centre and have a go at travelling across Windermere in this unique way and enjoy the view at pace.
Swimming
Open swimming in Lake Windermere can provide a refreshing break from the summer sunshine or a bracing dip to awaken the senses at any other time of year. We want you to be safe, so remember to wear a bright swim cap to stand out in the water, never swim alone and have safety boat or canoe support. You you could even enter the Windermere Cross Lake Swim that takes place on 27th September this year, where you will catch a chartered ferry from the Lake District National Park Visitor Centre at Brockhole across to Wray Castle. From there you will swim back across the lake, assuming you can swim in a straight line the distance is 1.2km. A wetsuit is optional despite the 14.9 degrees temperature! After all of your hard work you can then come back to The Hideaway, get cozy and warm up with some of Lisa's infamous tea and home made cake. Lovely.