Top 4 Lake District Events in July 2015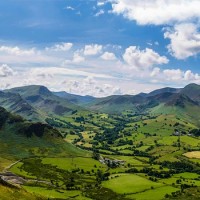 As beautifully hot summer weather descends on the Lake District, July is the perfect time to pack your bags and travel to this stunning part of Cumbria.
There are a number of great events on to keep all the family entertained, including the famous Grasmere Rushbearing straight through to the ever popular Skelton Show.
With this in mind, here is your opportunity to make a few notes in your calendar and make use of this glorious sunshine whilst it lasts!

1. Skelton Show - 4/7/15

A few days after that is Skelton Show - one of the most popular agricultural events in all of Cumbria.
With over 150 trade stands on offer, and a range of great exhibitors and competitions available, this is a fantastic event for anyone who wants to experience the very best of what the Lake District has to offer.
Some of the highlights include terrier racing, food hall demonstrations, and a Meerkat Road Show. But if you really want to ensure you don't miss anything, then we recommend you get there nice and early - around 8am - before the festivities begin. You can see the full timetable on the Skelton Show website.
2. Grasmere Rushbearing - 11/7/15
If you already love rushbearing, then you're going to adore this season's Grasmere celebrations.
Taking place on Saturday 11th July - at 3.30pm - this wonderful event celebrates the first time the floor of Grasmere church was paved with stone. In the Grasmere version, however, six 'maidens' carry a white sheet that has been adorned with rushes. Then flower-covered bearings, made by the locals themselves, are carried down the streets in a beautiful musical procession.
This is a particularly lovely event and attracts tourists from across the country every year. There will also be plenty of opportunities to visit Grasmere's great selection of cafes, souvenir shops, and cultural attractions.
3. Coniston Country Fair - 19/7/15
Next on this July's summer event list is Coniston Country Fair. Famed across Cumbria for its celebration of traditional country life, this fair is a particular favourite amongst animal lovers - particularly those who adore dogs.
If you love nothing more than man's best friend, you can expect to see everything from terriers, to lurchers, and plenty of sheepdog too. The fair also hosts an annual terrier racing event.
But Coniston Country Fair also has one or two tricks up its sleeve. It is an extremely popular event amongst sports enthusiasts too, with a number of athletic competitions pencilled in throughout the day - including:
Westmorland Wrestling

Fell Races

Tug O'War
If you would prefer to indulge in some shopping, however, the Coniston Country Fair will host a fantastic range of food, beverage, and arts and crafts stalls. Children can even flex their muscles and get involved in the archery section.

4. Ambleside Sports - 30/7/15
Are you athletic? Competitive? Do you love the idea of pushing the limits of your running and cycling skills, and winning a trophy in the process?
Then get ready for Ambleside Sports day!
Located at Rydal Park, this wonderful athletic celebration welcomes those from all walks of life to put their endurance and strength to the test. It doesn't matter whether your skills lie in running, wrestling, or pushing pedals, Ambleside Sports has something for every level of ability.
The event kicks off at 11.30am, but there will be a number of activities spread throughout the day - all of which can be found on the Ambleside Sports website. So there's no excuse to not start training in advance!
Summer Events in the Lake District
The Lake District is a truly multifaceted and dynamic summer holiday destination - as the sheer range of events this July quickly demonstrate.
Whether your idea of the perfect mini-break means visiting country fairs, soaking up some culture, or celebrating with locals during Rushbearing season, there is everything you could possibly want in the Lake District this summer.
All you need to do now is make a note in your calendar.
Follow us on Twitter to keep up to date with the latest Lake District events, or send us a tweet @HideawayHotel and say hello!