The Top 5 Historic Houses and Gardens in the Lake District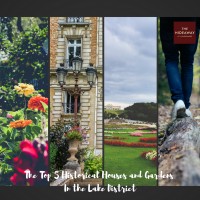 Embroiled in history and filled with mystery, a visit to one of the many historic houses and gardens in Cumbria is a must.
There are so many magnificent properties that will leave visitors to the Lake District spoilt for choice! So if you're wondering which are the best houses and gardens to visit during your stay, wonder no more.
We've pulled together a collection of the very best on offer that will provide a lovely day out for you and a loved one. Why not explore below and see what you discover?
1. Levens Hall and Gardens
Image sourced from www.levenshall.co.uk.
Located on the outskirts of Kendal, Levens Halls and Gardens are a fantastic choice for those hoping to dip their toe into some of the finest houses and gardens of Cumbria.
The home has been in the continual ownership since 1590 - and it's truly a wonderful building to see.
Benefiting from stunning Elizabethan decor, Levens Hall is a captivating walk through history, one that will leave you feeling inspired and reflective. The house is so true to its Elizabethan heritage that it has even managed to feature in television shows. Hound of the Baskervilles and the BBC production of Wives and Daughters were all filmed at Levens Hall.
Outdoors, Levens Gardens are also a sight to be marveled at. Complete with a topiary garden, herb garden, a willow maze, and rose garden, there's so much to see as you wander through the fragrant and appealing nature.
Prices start from £12.80, but be sure to check whether the house is open before you visit right here. They operate on seasonal times, meaning that the attraction is sometimes closed.
2. Brantwood
Previously owned by the esteemed John Ruskin, writer, painter, and influencer, Brantwood provides a step back in time for visitors.
The house itself whispers tales of romance, heartbreak, and craftsmanship - which Ruskin carried with him throughout his life. Brantwood is even befitted with a display of his magnificent artwork, which is rotated between the home and Lancaster University - there's always something new to see.
Outdoors, Brantwood's Estate is a marvel that will delight. The views of Coniston Water are fit for a king, and the wood itself is an exploration of scenic nature and, more recently, spectacular autumnal colours.
Prices start from £7.50 for both the house and garden, and there is also a quaint, onsite cafe for those hoping for a spot of lunch.
3. Holker Hall
Image sourced from www.holker.co.uk.
Owned by the prestigious Cavendish family, Holker Hall and Gardens are the perfect back drop for delightful afternoon of exploration.
As one of the most famous stately homes in the UK, Holker Hall attracts numerous visitors all year round, and the home itself dates back to around the sixteenth century, which is when the first records of a house on the site are dated.
There are a range of rooms to explore including a spectacular library filled with 3,500 books, a drawing room with walls covered in their original silk, a billiard room complete with large, carved wooden panels, and much, much more.
Outdoors, Holker Hall Gardens are an inspiring place to explore. Filled with stunning flowers, plants and trees, these immaculate gardens stretch across 25 acres and are sure to keep visitors entertained for hours upon end. There's also the famous Holker Hall lime tree that is not to be missed if you visit - it's thought to be more than 400 years old!
It's £12 per adult to visit the Holker Hall and Gardens, and visitors can also opt to purchase individual tickets for each attraction, too.
Be sure to also keep in mind that there are a range of exciting upcoming events at the hall, including the ever popular Holker Christmas Market between the 5th and 6th of November, as well as the Holker Hall Wedding Fair that is taking place on the 13th of the same month.
4. Abbot Hall
Abbot Hall is a home routed back in 1759, when it was first designed by John Carr of York.
Another awe-inspiring home in the heart of Kendal, Abbot Hall is a fantastic location to visit if you're looking for a historical visit woven with thought-provoking art from across the centuries. ent.
At the very heart of Abbot Hall now lies within the confines of their splendid gallery.
There are a broad range of artist works on offer, including some from the aforementioned John Ruskin - yet the main focus of the gallery is there 18th-century paintings.
Found on the ground floor of Abbot Hall, they feature a range of artists including some delightful works by locals. You can expect to find paintings by Philippe Jacques de Loutherbourg and also George Romney. Be sure to visit Abbot Hall for fine artistic work against the backdrop of a magnificent Georgian interior decor.
Their entry fee for adults is £7.
5. Dalemain Historic House and Gardens
Image sourced from www.dalemain.com.
Our final recommendation comes from the amazing Dalemain Historic House and Gardens. This majestic stately home harnesses a Georgian interior that will make visitors feel like they have slipped back in time.
You'll discover everything from regal furniture through to family portraits, and even charming dolls' houses and archaic toys - and once you've explored indoors, it's time to frolic in the gardens.
There's a handy garden map on the website to ensure you don't miss anything during your visit, and highlights include a children's garden, a beautiful summer house, Blue Himalayan Poppies and a semi-wild garden.
Prices for entry start at £11.50 for both the house and gardens - make sure you don't miss out on this delightful afternoon out!
Staying at The Hideaway
After exploring all those beautiful stately homes and gardens, you're going to need somewhere to rest your head to ponder all the wonderful sights you've seen.
A stay at The Hideaway is the perfect place to revel in luxury yet still feel at home. Our boutique hotel is adult only, and we love including little extras such as free tea and cake each day you stay to ensure our guests feel welcome.
To discover more about our availability, be sure to click here. You can also call us on 01539 443 070 if you have any questions or queries!