The Top 6 Best Slices of Cake In The Lake District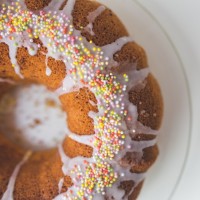 Red velvet. Chocolate buttercream. Chewy pistachio macaroons.
We aren't short of sweet indulgences in Windermere and the Lake District.
At the Hideaway, we offer complimentary cakes and biscuits to our guests every single day. But that doesn't mean we aren't a fan of our neighbour's Victoria sponges and gooey brownies too.
With that in mind, we've compiled a list of our favourite cake bakers in the Lake District - filled with plenty of local champions and without a soggy bottom in sight.
1. The Hideaway
We're not usually one for blowing our own trumpet - but we take pride in offering our sumptuous homemade cakes to our guests for free every time they stay!
You don't have to leave our boutique hotel to get access to some amazing tasty treats - all you have to do is stay in and get cosy whilst we bring you something delicious to enjoy.
From fresh Victoria Sponges through to hearty carrot cakes and tempting chocolate cakes filled with smooth buttercream, we have a cake you're sure to love.
2. Lucy's of Ambleside
A self-proclaimed paradise for food-lovers, Lucy's of Ambleside serves delicious food from 12-9pm every single day. But it's the cakes that really set Lucy's cafe apart from other eateries in the Lake District.
Although the menu changes constantly, one of our favourites has to be the gluten-free apple and cinnamon squares - topped with beautifully spiced buttercream icing.
Or, if you're looking for a morning pick me up, then Lucy offers banana pancakes, adorned with golden syrup and a generous helping of blueberries and cream too.
All complimented with excellent coffee, this is definitely one of our favourite places for cake and relaxation in the Lake District.
3. Hazelmere Cafe & Bakery
This charming coffee is located in Grange over Sands and offers a plethora of beautiful sweet treats to tickle any taste bud.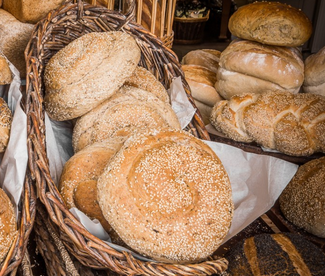 Image sourced from http://thehazelmere.co.uk/
Strawberry tarts, iced buns, and sweet pastries are all popular options. As is their famous range of homemade bread.
However, our favourite has to be the cherry bakewell tart - with its beautifully crisp pastry and sweet, almond filling.
For anyone who really feels like splashing out, Hazelmere Cafe & Bakery also offers a lovely afternoon tea option - giving visitors a lovely selection of fruit scones, whipped Lakeland cream, and an assortment of cakes made on the day.
4. Broughton Village Bakery and Cafe
Broughton Village Bakery is somewhat of a local hero in the Lake District. It has recently undergone new management - however, everything at the bakery is up and running as usual.
And the cakes certainly aren't any less delicious. Some of the most notable offerings include their gooey brownies and exquisite cupcakes, all of which are decorated in a variety of beautiful and attractive ways.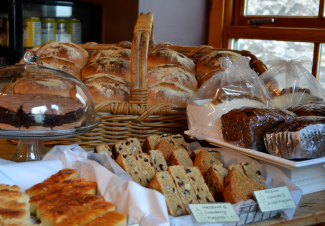 Image sourced from http://www.broughtonvillagebakery.com/
But word to the wise: it would be a sin to visit the Broughton Village Bakery & Cafe and not try their crisp quiches and great bacon butties. You can't beat it, especially after a gentle stroll in the Lake District.
Don't worry if you don't have time to sit in, however. There is also a convenient take-out option.
5. The Bluebird Cafe
Set in a truly stunning location, the Bluebird Cafe offers excellent views and even better delicious treats for its customers.
Expect everything from moist carrot cake, to tiffin, all the way through to homemade hot chocolate brownie served with locally-sourced ice cream.
The Bluebird Cafe has an excellent menu of savoury snacks too, so it's very popular amongst locals and visitors alike who have spent the day on Coniston Water. In fact, the cafe has been such a success that is has opened a new site in Bowness.
6. Bryson's of Keswick
With a proud heritage that stretches back over 70 years, Bryson's of Keswick has earned the reputation as one of the best places for cake in the Lake District.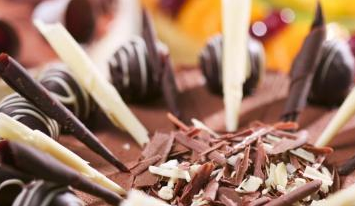 Image sourced from Bryson's of Keswick website.
The Tea Room, located in Keswick, has become famous for its Cherry Genoa and cinnamon shortbread.
If you would like something to take home, furthermore, Bryson's Bakery is one of the best bread makers in town. So get in there early to pick up your Bloomers, Ciabattas, and Lakeland Plum Bread.
Best Cake in the Lake District
Okay, so the Lake District isn't short of its sweets and sticky treats.
But there really is some amazing cake bakers located in Cumbria, all of whom champion great local produce and the very best of what Britain has to offer. It makes them exceptional. And it's the reasons they attract customers day in and day out.
Where are your favourite Lake District cakes? Send us a tweet @HideawayHotel and share your thoughts!