Woodland Walks This Autumn In The Lake District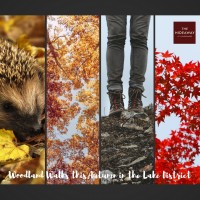 Autumn is one of those times of year that's full to the brim with natural beauty, and England's largest National Park - the Lake District - offers vibrant hilltop and lakeside views that are perfection for a couple in love, wishing to reconnect.
As the crisp leaves crunch beneath your feet and the cool air tickles your bare face, you'll have the chance to truly switch off and enjoy the autumn experience.
Cumbria is home to lots of wonderful woodland walks that we like to venture out on ourselves when we have a spare moment - and because of that we thought we'd share some of our favourites with you.
1. Fell Foot Wood
Our first woodland walk takes us through Fell Foot Wood. This National Trust site is home to lots of fun activities such as a Night Run, but it's also the perfect backdrop for a relaxing wander through nature.
You can walk along the lakeshore, taking in views of the water, and you can also head to the recently restored boathouse that's now a lovely cafe and gift shop.
This walking area is located just 20 minutes drive from The Hideaway, making it the perfect place to visit for some exercise and the chance to turn off from a hectic lifestyle! And because it's autumn, be sure to keep an eye out for the likes of chestnuts and conkers - they're both staples of an autumnal walk and are sure to take you right back to your childhood.
2. Allan Bank
Despite the fact that Allen Bank wood was damaged greatly during storms towards the end of last year, the east side is back open again!
A walk through here is sure to offer the chance for you and your loved one to reconnect, and there's also plenty of wildlife to be seen on a wander through this slice of nature. Animals such as deer and otters have been spotted recently by some of the National Trust rangers.
There's a carpark on site, as well as some lovely picnic benches for a tasty picnic lunch! Just make sure you wrap up warm before you head out and keep an eye out for some exciting animals on your walks.
And remember to stay within the guided areas and don't stray into the west side - which is still damaged from the storms.
3. Ambleside Common Wood Walk
Overlooking our beautiful hometown of Windermere, the Ambleside Common Wood Walk is a fantastic place to explore the outdoors.
This trail can be found on the National Trust website and takes around one hour in total. A lovely view at the top is the climax of this walk, and we're sure you'll enjoy every moment maneuvering your way through this fantastic wood. It really captures the very heart of what autumn is all about with the slightly dewy grass and golden autumn leaves.
4. Orrest Head
Even though the walk up Orrest Head is better described as a fell walk, there's still pleasant woodland wanderings to be had in this area.
This option on the list is also very close to The Hideaway, meaning you'll be able to walk there without needing to drive or travel by public transport anywhere.
On this walk, you'll come across some really splendid views - and we have a whole blog about the area right here if you'd like to find out more. It really is one of our top walking spots - and it's even more beautiful during the autumn months, too. Be sure to keep an eye out for red squirrels who love to come out during the autumn months!
5. Walla Crag and the Great Wood
Image sourced from Wikipedia - taken ¾ of the way up Walla Crag.
If you're looking for a walk close to the fabulous Derwentwater, then Walla Crag and the Great Wood is the walk you've been looking for. At the peak of this walk you'll find a fantastic panorama, and as you make your way up there you'll enshrouded by some magnificent autumnal sights this time of year.
Whilst walking along the top, be sure to look out for some tell-tale autumn signs - keep an eye out for some floating lightweight seeds such as sycamore. Fruits will also be ripening during this time of year, so be on the lookout for some berries (although we recommend that you don't eat them!).
The walk up Walla Crag can be quite a steep, so be sure to only venture on this pathway if you are certain you'll be able to manage - and remember to stick to the handrail if it's a misty afternoon at the top of the crag!
The Hideaway at Windermere
If you're looking for a place to kick back and relax with a good night's sleep after a wonderful day of wandering among the dreamy autumn woods, then why not see what we have available here at The Hideaway?
Our luxury, boutique hotel is located in Windermere and we have a range of stunning rooms available. Fancy taking a peek at our availability? All you need to do is click here. We hope to see you very soon!